For Pulisheri:
1/2 cup pineapple pieces
1/2 cup grated coconut
1/2 tsp turmeric powder
1 pinch jeera
2 green chilly
1 cup curd
Salt to taste
For Seasoning:
2 tbsp oil
1/2 tsp Urdu dal
1 whole red chilly
1 tsp mustard
1/2 tsp methi seeds
Few curry leaves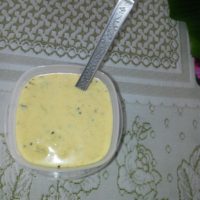 Cuisine: Kerala
Cooking time: 30 mins
Serving: 6 people
Method:
Grind the coconut into a fine paste. Add jeera and green chilly and grind again mildly for 6 to 7 seconds. At last add curry leaves and grind for 4 seconds.
Cook the pineapple pieces in water with turmeric powder. Now add the grounded coconut paste and salt to the cooked pineapple and mix it well with adequate water.
Heat it for 5 minutes. Add beaten curd and put off the flame.
Heat the oil in a pan. Add urad dal, red chilly, methi seeds and mustard. When the mustard splutters add curry leaves. Now pour this seasoning to the pulisheri.
Pulisheri can also be made with ripe mango or ripe banana (nendrapayam) instead of pineapple.
Meal: Food type: