3 cups idli rice or boiled rice
1/2 cup tur dal
3/4 cup Urdu dal
1 tsp methi seeds
1/2 cup moong dal or whole moong
3 tbspoon chana dal (optional)
2 to 3 tsp chilly powder
1 tsp hing
2 Finely chopped onions
1/2 cup grated coconut (optional)
Few curry leaves
Salt to taste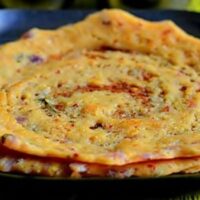 Cuisine: Kerala
Cooking time: 15 mins
Serving: 2 people
Method:
Clean the rice and the dals in water thoroughly. Soak the rice along with Urdu dal and methi seeds in water. Also soak the tur dal, moong dal and chana dal together in water. Soak them for 3 to 4 hours.
Drain the water and grind the rice and urud dal to a coarse state. Add the other soaked dals to this and grind again. Add chilly powder, hing, salt, grated coconut, onions and grind further for 2 minutes. Please note that the texture of this batter will not be as smooth as the normal dosa batter. Remove it from the grinder onto a vessel and add curry leaves.
You may leave it for fermenting or use it immediately for making dosa. A dash of ghee while making the dosa will make it taste better.