Main dish
½ kg Kappa (Tapioca)
1 cup Grated Coconut
Salt to taste
2 tbsp Oil
1 whole red Chilly
1tsp mustard
1tsp urud dal
6 to 7 curry leaves
For Chutney
1 cup chopped sambhar onions
Salt to taste
3 green chilly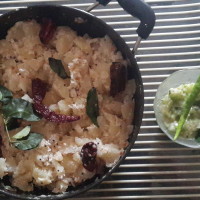 Cuisine: Kerala
Cooking time: 45 mins
Serving: 4 people
Kappa is the Malayalam word for Tapioca. It is the starch from the cassava plant. An image of Kappa is put up here for your reference. This preparation is usually served with particular onion chutney and the recipe of the chutney is also given here.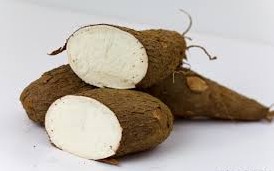 Method
Remove the skin of the Tapioca and chop it into medium sized pieces and clean it thoroughly in water. Boil 1 ½ litres of water & cook the tapioca pieces in it till it becomes very tender. This might take some time.
Once the tapioca is cooked, remove it from the stove and drain out the water. Add salt and the grated coconut to the tapioca and mix it well.
For seasoning heat a pan with 1tbsp oil and add red chilly, urud dal and mustard. When the mustard splutters add curry leaves. Add the above cooked tapioca into the pan and mix it well on slow flame for 2 minutes.
Kappa delight is ready. Serve hot.
---
Chutney
First grind Onion coarsely. Then add salt and the green chillies and grind it once. Now add curry leaves and grind it again. While serving, pour a little coconut oil to the chutney. Recipes for breakfast.
Meal: Food type: