1 cup Horse gram
½ cup scrapped coconut
½ tsp Chilly powder
1 pinch cumin seed (jeera)
1 or 2 garlic pods
2 spoons of Tamarind pulp extract
2 spoons coconut oil
Curry leaves
Salt to taste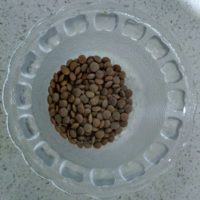 Cuisine: Kerala
Cooking time: 60 mins
Serving: 6 people
Cooking Method
Wash the horse gram thoroughly and cook it preferably in a black earthen pot. Do not use a pressure cooker. Cook the horse gram till it becomes soft.
Grind the scrapped coconut, chilly powder, cumin seeds and garlic with water in a blender, to make a smooth paste. Add 2 to 3 spoons of cooked horse gram and grind well. Then add a bunch of curry leaves and grind again.
Add this paste to the remaining cooked horse gram and add 2 spoons of tamarind pulp extract to dilute it. Heat it and switch off the gas before it boils.
Add 2 spoons of coconut oil and top it with curry leaves. Serve hot with rice, a good alternative to the everyday sambhar.
Postscript: The cooked horse gram was also one of our favourite evening snacks. Our mother used to dash the cooked horse gram with a lavish helping of scrapped coconut and jaggery.
Tip: Refrigeration was alien in our childhood days. So our mother used to keep the cooked horse gram in a black earthen pot with some tamarind to keep it fresh the next day too. Recipes for lunch.
Meal: Food type: