4 cups cooked rice(do not over cook the rice)
6 tomatoes cut lengthwise
5 beans cut lengthwise
1 carrot cut lengthwise
4 onions cut lengthwise
4 green chillies cut lengthwise
1/4 cup curd
1/2 tsp mustard
7 cashew
8 raisins
Oil
Few curry leaves
Coriander leaves finely chopped
Salt to taste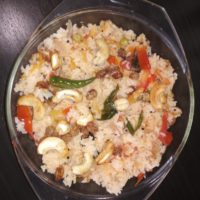 Cuisine: Kerala
Cooking time: 45 mins
Serving: 5 people
Method:
Heat the kadai and pour 3 tbsp oil. Let the mustard splutter. Then add curry leaves, onions, green chilly, tomato, carrot, beans, salt and sauté for few minutes.
Add the cooked rice and further sauté for 2 minutes.
Remove from the flame and add curd.
Garnish the rice with fried cashew nut, raisins and chopped coriander leaves.
Meal: Food type: