Ripe Banana - 2 (Use the banana we used for the banana stew)
Sugar - 2 tbsp
Besan - 1 cup
Pinch of salt
Idli atta - 2 tsp (optional)
Oil for deep fry
Water as per requirement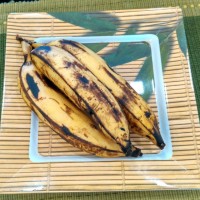 Cuisine:
Cooking time: 30 mins
Serving: 4 people
Method :
Peel the banana and slice it into thin pieces. You can either cut it long or round or oval in shape. Do not cut it into thick pieces though.
Take besan in a bowl. Add sugar, salt, idli atta to it and mix it well with water. Mix it into a paste of medium consistency, neither thick nor watery.
Heat the Kadai and pour sufficient amount of oil for deep fry. When the oil is hot enough, dip the banana slices one by one in the besan paste and fry it in oil till it turns light brown in colour.
Your tasty snack is ready.
Meal: Food type: