2 cups (Beans, carrots, cauliflower, cabbage, Potatoes cut into small pieces)
1/2 cup peas
1/2 cup Onions cut into small pieces
2-3 cloves
1 small piece cinnamon
5 green chilly cut half lengthwise
1 tsp Ginger cut into small pieces
1 tsp vinegar
Oil
Salt
For white sauce:
2 tbsp butter
2 tbsp cornflour or maida
1 cup milk
1 tsp pepper powder
Salt to taste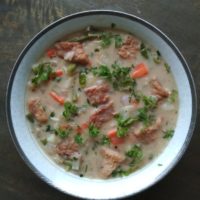 Cuisine: Kerala
Cooking time: 40 mins
Serving: 8 people
Method:
For white sauce –
Heat the kadai and toss the maida in butter for few minutes.
Pour milk and stir continuously ( make sure no lumps are formed) till it becomes a little thick.
Add pepper powder and salt.
The white sauce is ready.
Steam all the vegetables with salt till it is half cooked.
Heat the oil in a kadai. Add clove, cinnamon, onions, ginger, green chilly and sauté for few minutes.
Add vinegar and white sauce to the kadai. Now add the half cooked vegetables to this sauce and cook well.
You can add water if you want to make the consistency thinner.
You may spread some fried bread crumbs over the curry or you may also spread some coriander leaves on the curry.
Meal: Food type: