½ cup chopped potatoes
½ cup chopped French beans
½ cup chopped Carrot
½ cup chopped Cauliflower
½ cup boiled peas
½ cup paneer (optional)
1 cup chopped tomatoes
1 cup chopped onions
1tsp ginger garlic paste
¼ cup oil
½ cup coconut milk
1tsp Chilly powder
1tsp turmeric powder
1tsp coriander powder
1tsp garam masala
1 small piece cinnamon
½tsp poppy seed (khus-khus)
½tsp fennel seeds (saunf)
3 cloves
1 Bay Leaf
6 to 7 kismis
1 cup Grated coconut
1 tsp Jeera
6 to 7 cashewnuts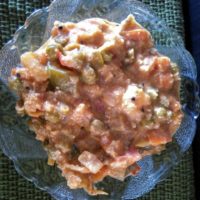 Cuisine:
Cooking time: 60 mins
Serving: 6 people
For Paste
Take 1 cup Grated coconut, 1 tsp Jeera and 6 to 7 cashew nuts. Grind the coconut, jeera and cashewnuts with water in the mixer to make a paste.
Cooking Method
Steam all the vegetables with salt.
In a pan, heat oil and add bay leaf, cinnamon, cloves, fennel seeds, kismis, poppy seeds. Stir for few seconds. Add onions and fry till the onions are little brown. Add tomatoes and fry for 4to5 minutes then add the chilly power, turmeric powder, corriander powder, garam masala, ginger garlic paste, and fry for 5minutes. Then add the steamed vegetables and stir for 6 minutes.
Dilute the coconut paste with 2 cups of water and add it to the above pan. Let it boil for some time. Add paneer & salt for taste. Add little sugar and half cup coconut milk. Stir well and your Korma is ready. In case you want more gravy add coconut milk and water.
Note: The method of making coconut milk is already mentioned in the recipe of banana stew. Please refer to the same or else you can also use the readymade coconut milk available at stores. Recipes for lunch.
Meal: Food type: