300 gms raw rice ( for 250 gms rice flour)
500 gms jaggery
2 tbsp ghee
1 1/2 tsp cardamom powder
6 ripe bananas (palayamthodan banana special from Kerala)
1 tbsp copra
Oil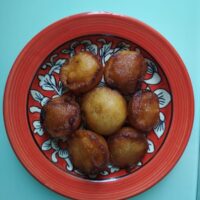 Cuisine: Kerala
Cooking time: 120 mins
Serving: 2 people
Unniappam is a dessert, popular in Kerala and Tamil Nadu. Many temples distribute it as Prasadam.
Vessel required:
Unniappam mould pan
Method:
Soak the rice in water for 2 hours. Strain the water completely and grind the rice into fine powder in a mixie. Sieve it to separate the coarse pieces and grind the coarse pieces again into fine powder. You may also use readymade rice flour available in the market.
Peel the bananas and blend it into a smooth paste.
Cut the copra into small pieces and fry it in ghee.
Heat the jaggery in a heavy bottom vessel and melt it by adding little water. Strain the melted jaggery to remove impurities from the jaggery, if any. Again heat the jaggery solution till it has a thread like consistency when poured. Allow it to cool enough to be able to mix it with the rice flour using your hand.
Now take the finely powdered rice in a vessel. Pour the warm jaggery solution and stir mix well with the rice flour. Add the banana paste, cardamom powder, the fried copra pieces along with ghee used to fry it and mix well. The batter should be of semi thick consistency. If you find the batter too thick add warm water to get the correct consistency. And if the batter has become too thin, then add more rice powder to get the proper consistency.
Make sure that the quantity of the ingredients need to be as mentioned – 6 bananas for 250 grams finely powdered rice flour.
Heat oil in an unniappam mould pan. Pour the batter using a spoon into the mould pan. Fill each mould to its 3/4 capacity. Fry it on slow flame. Turn over each unniappam to fry both sides. When it turns to reddish brown remove the unniaapams from the pan and squeeze it slightly with a spoon to remove the excess oil from the appams. Similarly make appams from the remaining batter.