5 cups raw rice
1 cup raw rice (cook this cup of raw rice)
1/2 tbspoon salt
8-9 tbsp sugar
7-8 grains of yeast ( soaked in little water)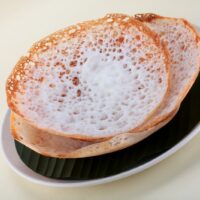 Cuisine: Kerala
Cooking time: 15 mins
Serving: 2 people
Method:
Clean the raw rice in water thoroughly. Soak the rice in water for 3 hours. Drain the water and grind it into a smooth paste by adding small quantity of water as and when needed. Take out the batter into a vessel.
Now grind the cooked rice similarly into a smooth paste. Add it to batter in the vessel.
Add the yeast soaked in water to the batter and mix well. Keep it aside for fermenting for 9 to 10 hours. Remember to set aside the batter in a large vessel as the batter rises up during fermentation.