1/2 cup mung dal
1 cup grated coconut
4 red chilly or 1 tsp red chilly powder
1 sambhar onion
1 pinch jeera
2 pod of garlic
Few curry leaves
Salt to taste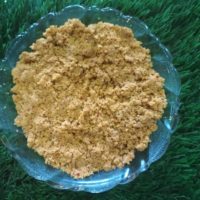 Cuisine: Kerala
Cooking time: 30 mins
Serving: 6 people
Method:
Fry the mung dal in a kadai without oil till it turns brown. Clean thoroughly in water and let it dry. Grind it coarsely. Keep it aside.
Now separately grind red chilly with salt and later add the grated coconut, jeera, garlic, onion and grind thoroughly.
Add the grounded mung dal and curry leaves. Grind it again so that the ingredients mix well.
Chutney for idli Dosa is ready. It tastes good with rice too.
Meal: Food type: