250 gms Moong Dal
600 gms Jaggery
Coconut milk extracted from 1 medium sized coconut
1 tablespoon thin sliced khopra
1 tablespoon Sabudana
7 tablespoon Ghee
8-10 pieces Cashew
10 – 12 pieces Raisins
1 teaspoon Elaichi powder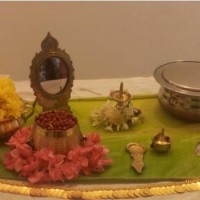 Cuisine: Kerala
Cooking time: 60+ mins
Serving: 8 people
This preparation is made with Moong Dal, Jaggery and coconut milk. This delicious recipe is a popular dessert amongst malayalies. Pradhaman is prepared for all major festivals and celebrations in Kerala.
Preparation
1. Extract 1 cup thick milk and 5 cups thin milk from the grated coconut.
Preparation of Coconut milk
To extract 1 cup thick milk add 1 cup warm water to the grated coconut and squeeze out the milk. The milk extracted first time is referred to as thick coconut milk.
Now reuse the grated coconut from which the thick milk was extracted to make thin coconut milk. For the same add 1 cup of water to the grated coconut and blend it in the mixer and extract as much thin milk as possible. Further add 3-4 cups of water in the extracted milk. Your 5 cups thin milk is ready.
2. Dry roast the moong dal on low flame till it turns light brown. Then take it off the flame and wash with water. After cleaning the dal add sufficient water to it and cook the dal in the pressure cooker on low flame for five whistles. After the dal cooks take it off from the gas and let it cool to room temperature. Then open the cooker and place it on gas again. Add jaggery. Add 5 tablespoons of ghee and stir continuously till the contents mixes well into a paste and leaves the sides of the vessel (like halwa).
3. Then pour the 5 cups of thin milk and sabudana to the paste and stir occasionally. Once the sabudana is cooked properly and the milk thickens, add the thick coconut milk and switch off the gas after two minutes. Add elaichi powder.
4. In a pan heat 2 tablespoons of ghee for about 2 minutes. Add cashew nuts and khopra and fry till cashew nuts turn golden brown. Add raisins. Stir for a few seconds and pour into the pradhaman. The Pradhaman is ready to be served. This preparation can be served hot or cold as per choice. Recipes for lunch
Meal: Food type: