2 cups raw rice cooked
1/2 cup mung dal
1/2 cup grated coconut
1/2 cup onions cut into very small pieces
1 tsp green chilly cut into round shape
1 tsp ginger cut into small pieces
1/2 tsp chilly powder
Salt to taste
For Seasoning:
3 tbsp oil
1 tsp mustard
1/2 tsp jeera
Few cashews
1 red chilly
Few curry leaves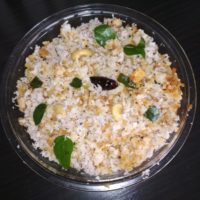 Cuisine: Kerala
Cooking time: 45 mins
Serving: 5 people
Method:
Sauté the mung dal in a pan without oil till it turns light brown. Half cook the mung dal in adequate water.
Heat kadai and pour oil. Add mustard, red chilly, jeera, cashews and curry leaves. When the mustard splutters add onions, ginger, green chilly, chilly powder, salt and sauté for few minutes.
Add the cooked rice and the half cooked mung dal to the kadai. Mix thoroughly but gently.
Finally add the grated coconut. Serve hot.
For all the rice recipes, the rice should not be over cooked, the rice grains should be separate once cooled.
This rice is very healthy food for children.
Meal: Food type: