10 small tender lady's finger
2 tsp chilly powder
2 tbsp coriander powder
1/2 tsp garam masala or vegetable masala
Oil
Salt to taste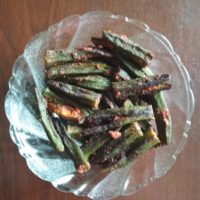 Cuisine: Kerala
Cooking time: 30 mins
Serving: 4 people
Method:
Mix the chilly powder, coriander powder and garam masala / vegetable masala with salt and little water. Mix it well into a paste for stuffing.
Clean the lady's finger and cut the top and tip of the lady's finger. Slit the lady's finger vertically on one side. Do not cut it entirely into 2 halves.
Stuff each lady's finger with 1 tsp of the stuffing. Steam it for few minutes.
Heat a pan and spread oil. Roast the lady's finger in the pan. You can also shallow fry them.
Serve when it is hot.
Meal: Food type: