Ingredients for the dough:
1 cup Appam flour
1 spoon ghee
A pinch of salt
Boiling water
Plantain leaves (cut into medium size pieces)
Ingredients for the filling:
1 cup green gram dal (moong dal)
250 grams of jaggery
1/2 coconut (grated)
1/4 spoon cardamom powder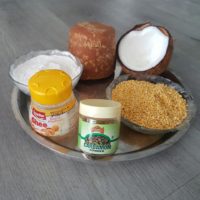 Cuisine: Kerala
Cooking time: 60 mins
Serving: 6 people
Method of making the dough:
In a flat bowl pour the boiling water, add flour, ghee and salt. Mix it well to make a loose soft dough. (Softer and looser than the dough for chapati).
Method of making the filling:
Cook the dal and melt the jaggery. In a pan pour the ghee and the melted jaggery, add the cooked dal, the grated coconut and the cardamom powder. Mix well. The filling is ready.
Method of making the ELAYAPPAM:
Now Dab oil on the plantain leaf. Make small balls of the dough and Spread the dough evenly on the plantain leaf. Place 1 spoon of the filling on the dough spread on the leaf. Fold the leaf.
Steam cook it. The hot snack is ready to be served.
This is also called Valsan. As a child this was our favorite snack though we always wondered why it had such a curious and funny name. Recipes for breakfast.
Meal: Food type: