6 medium sized pieces White pumpkin/cucumber (remove the skin)
4 medium sized pieces of brinjal
4 medium sized pieces of raw banana (remove the skin)
4 medium sized pieces of Padval ( snake gourd)
4 medium sized pieces of drumsticks (optional)
5 sambhar onions
1 tbsp tamarind juice
1 green chilly
1 1/2 tsp chilly powder
1/2 tsp turmeric powder
1 cup grated coconut
1 tsp jeera
Few curry leaves
Salt to taste
For seasoning:
1 red chilly
1 tsp mustard
Few curry leaves
1 tbsp Onion cut into small pieces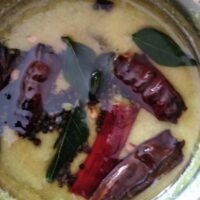 Cuisine: Kerala
Cooking time: 45 mins
Serving: 4 people
1. Cook all the cut vegetables in sufficient water in a pan. When the vegetables are half cooked add tamarind water and salt and cook well.
2. Grind the grated coconut, chilly powder, turmeric powder with little water into a paste. Now add jeera, green chilly and curry leaves and grind for 2-3 seconds.
3. Add the coconut paste to the cooked vegetables. If needed, add water for a thinner consistency. Make sure you don't add too much water. Keep it on flame for not more than 3-4 minutes and heat up the mixture. Do not allow it to boil. The curry is ready.
4. For seasoning, heat a kadai, pour oil and add red chilly and mustard. When the mustard splutters , add curry leaves. Now add the cut onions and fry it till it turns golden brown.
5. Switch off the flame. Pour this seasoning to the curry.
Serve theeyal with rice. It is a good alternative for sambhar.
Meal: Food type: