1 cup - Tur dal
Lemon size Tamarind pulp
3 tbsp - Oil
1/4 cup - White Pumpkin
1/4 cup - Padval
1/4 cup - Brinjal
1/4 cup - Arabi/Qura
1/4 cup - Beans
1/2 cup - Tomato
1/2 cup - Lady's finger
1/2 cup - Small onions
1drumstick
1/2 tsp - Turmeric powder
1/2 tsp - Chilly powder
2 - 3 tsp - Sambar powder
1 tsp - Hing
Salt to taste
For Seasoning
1 tsp - Oil
1 tbsp - Mustard seeds
1/2 tsp - Methi seeds
2 - Red chilly
Curry leaves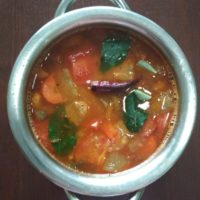 Cuisine: Kerala
Cooking time: 60 mins
Serving: 8 people
Method:
Cut the vegetables into medium size pieces.
Cook dal in pressure cooker for 4 whistles till soft. Keep aside.
Soak tamarind in hot water and extract tamarind water.
Heat oil in a Kadai and add all the vegetables except drumstick,lady's finger and tomatoes. Fry the vegetables for 5 minutes and add turmeric powder, chilly powder, salt, tarmarind pulp and sambar powder. Fry for "2-3 minutes. Add this into the dal in the cooker with 3 or 4 cup of water and pressure cook it for 2 whistles. After the cooker cools down open the lid and add tomatoes,drumstick and lady's finger. Check the constituency of water, it should neither be thick nor too watery. Now cook it till the lady's finger turn tender. Add hing/ asafoetida.
For Seasoning
Season with red chilly, mustard seed, methi seed and curry leaves. Pour this into the sambar and top with chopped coriander leaves.
Sambhar can be served with rice or idli and dosa
Meal: Food type: