Coconut milk extracted from 1 medium sized coconut
3 Nendrapazham (ripe plantain)
Ghee – 3 tablespoon
Cashew 8-10 pieces
Raisins 15 – 20 pieces
Elaichi powder 1 teaspoon
Sugar 250 gm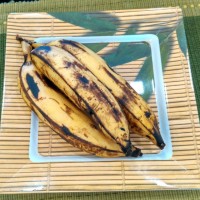 Cuisine: Kerala
Cooking time: 30 mins
Serving: 8 - 10 people
This preparation is made with coconut milk and ripe plantain (popularly called as Nendraphazam). This delicious recipe is a favourite sweet dish amongst Keralities.
Preparation
1. Extract 1 cup thick milk and 4 cups thin milk from the grated coconut.
Preparation of Coconut milk:
To extract 1 cup thick milk add 1 cup warm water to the grated coconut and squeeze out the milk. The milk extracted first time is referred to as thick coconut milk.
Now reuse the grated coconut from which the thick milk was extracted to make thin coconut milk. For the same add 1 cup of water to the grated coconut and blend it in the mixer and extract as much thin milk as possible. Further add 3 cups of water in the extracted milk. Your 4 cups thin milk is ready.
2. Cut the Nendrapazham into thin slices. Cook the Nendrapazham in the thin coconut milk till the Nendrapazham are half cooked. It is advisable to use a cooking vessel with a thick base so that the dish does not get burnt while cooking. Add sugar and fully cook the Nendrapazham till it becomes soft and the coconut milk thickens. Stir occasionally. Once the Nendrapazham is soft and the milk thickens, add the thick coconut milk and bring to boil and switch off the gas. Add Elaichi powder.
3. In a pan, heat ghee for about 2 minutes. Add cashew nuts and fry till golden brown. Add raisins. Stir for a few seconds and pour into the stew. This preparation can be served hot or cold as per choice. Recipes for breakfast.
Meal: Food type: