1/2 cup raw rice
1/2 cup urud dal
3/4 cup moong dal
4-5 peppercorns
1 1/2 cups grated coconut
1 tblspoon ghee
Few curry leaves
Coconut Chutney
1/2 cups grated coconut
1 tsp chilly powder
2 pods of garlic
1 pinch of jeera
5 - 6 leaves of Kadipatta
Salt to taste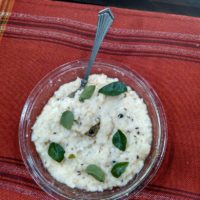 Cuisine: Kerala
Cooking time: 45 mins
Serving: 4 people
Method:
Clean the raw rice, urud dal and moong dal in water. Heat 4 cups of water in a cooker. Add the cleaned rice, urud dal and moong dal to the hot water and cook stirring occasionally. Add pepper. Cook till the consistency becomes smooth.
Add salt, grated coconut and ghee and stir well.
Add curry leaves and switch off the gas.
Serve this hot with coconut chutney or pickle.
COCONUT CHUTNEY
Method:
Coarsely grind all the ingredients without water. Serve it with the above preparation.
Meal: Food type: