2 Green tomatoes
1 Onion
1 Drumstick (optional)
1 cup grated Coconut
1 tsp Jeera
2 tsp chilly powder
1 tsp Jeera
1 tblsp Coconut oil
Few Curry leaves
Salt to taste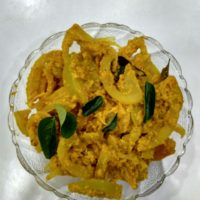 Cuisine: Kerala
Cooking time: 20 mins
Serving: 3 people
Method :
Cut the tomatoes and onion in length. Cut the Drumstick into 3 or 4 pieces and then slit it into 2. Take these vegetables in a kadai. Add salt and enough water and cook the vegetables.
Grind coconut, jeera, chilly powder, turmeric powder with little water. Add curry leaves and grind it a little again. Add this paste to the vegetables in the Kadai. Continue boiling it though not for more than 5 to 6 minutes. Boiling it more can change the taste of the dish. Avial is a semi gravy dish.
Pour coconut oil and add curry leaves. Avial is ready to be served with rice.
Meal: Food type: