Ingredients:
1/2 kg brinjal(small)
1/4 cup oil
1 tsp mustard
2 tsp Urdu dal
1/2 cup onions cut into very small pieces
1tsp green chilly
1tsp garlic cut into small pieces
1 tsp chopped ginger
1/2 tsp chilly powder
1/2 tsp turmeric powder
1 tsp tamarind water
Salt to taste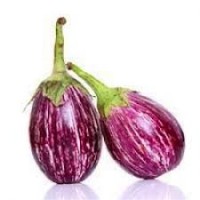 Cuisine: Kerala
Cooking time: 45 mins
Serving: 4 people
Method:
Clean wipe the brinjal and cut it without removing the stem so as to enable us to fill it with the masala.
Steam cook the brinjal till it's half cooked.
Heat the kadai with 1/4 cup oil. Then add mustard and urud dal. When the mustard splutters add onion, green chilly, garlic, ginger and sauté till it becomes tender. Further add chilly powder, turmeric powder and again sauté for few seconds and add tamarind water and salt. The masala mix is ready. (You can add 1/2 tsp sugar to little blend with the sour taste)
Fill the masala inside the brinjal and tie the brinjal with a thin thread to avoid spill out. Grease a vessel with oil and arrange the brinjals in it. Steam cook the brinjals well.
Untie the thread carefully. Brinjal masala is ready to be served.
Meal: Food type: