250 grams Aval (thin poha)
350/400 grams jaggery
2 tbsp mung dal
1 tbsp grated coconut ( optional)
5 pieces cardamom
Few cashew
Few kismiss (dried reisins)
3 tbsp ghee
2 tsps of sugar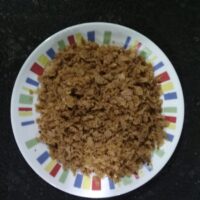 Cuisine: Kerala
Cooking time: 30 mins
Serving: 2 people
Method:
Make the aval soft by sprinkling enough water on it.
Fry the mung dal a bit without oil. Then clean it well with water.
Crush the jaggery into smaller pieces and melt it in a heavy bottomed vessel. When the jaggery melts and just starts to thicken add the softened aval, the mung dal and grated coconut (optional) to it. Please note that adding coconut may reduce the lifetime of the dish as it may get spoiled sooner and therefore cannot be stored for a longtime.
Stir for sometime as the aval mixes well with the jaggery. Switch off the gas. Add cardamom powder and mix well.
Fry the cashews and kismiss in ghee in a separate kadai. Add the cashews and kismiss along with the ghee to the aval. If you do not want to add cashew and kismiss just pour plain ghee to the aval.
Sprinkle sugar over the dish.