Ingredients:
1 cup tomatoes cut into small pieces
1 tbsp tamarind water
1/2 cup sambhar onions also called tree onions cut into small pieces
2 tsp corriander powder
1 tsp chilly powder
1/4 tsp turmeric powder ( you can also use .... spoons sambhar powder instead of using the corriander powder, chilly powder and turmeric powder)
1/2 tsp sugar
2 tbsp coconut oil
1/2 tsp mustard
1/4 tsp methi seeds
Red chilly
Few curry leaves for seasoning
Salt to taste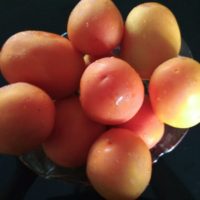 Cuisine: Kerala
Cooking time: 30 mins
Serving: 4 people
Method:
Take water in a bowl and add corriander powder, turmeric powder and chilly powder or alternatively add only sambhar powder and mix well.
Add tamarind water with additional 1 cup of water and boil it. While boiling also add tomato, onion,salt and allow it to boil for 5 minutes till it forms into a semi liquid consistency. Add sugar to temper the tanginess of the tamarind water.
Heat the oil in a kadai. Add mustard, dry red chilly, methi seeds and when mustard splutters add curry leaves.
Pour this seasoning unto the curry.
Serve the curry with chapathis.
Meal: Food type: