4 Brinjals each cut lengthwise in to 8 pieces
2 onions cut into very small pieces
3 to 4 tsp Chilly powder
2 tsp corriander powder
1 pinch turmeric powder
Salt to taste
Oil for sautéing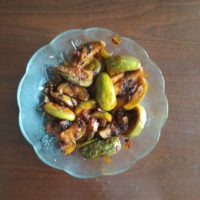 Cuisine: Kerala
Cooking time: 30 mins
Serving: 4 people
Method :
1. Cut the brinjal , wash it and wipe thoroughly with cloth. Be sure
the brinjals are completely dry.
2. Mix chilly powder, turmeric powder, coriander powder, salt with
the oil and make a paste.
3. Marinate the brinjal pieces in the paste and keep aside for 10
minutes.
4. In a tava, pour oil and heat it. Sauté the onions in it till it turns
brown. Add the marinated brinjals and mix well with the onions.
Close the tava with a lid and let it cook for 2 minutes. Open the
lid and sauté for few minutes in low flame.
5. Enjoy the dish with chapathis and rice.
Meal: Food type: