1/2 cup white pumpkin
1/2 cup padval
1/2 cup brinjal
1/2 cup Suran
1/2 cup raw Kerala banana (banana that we use for banana stew)
1/4 cup raw mango or 1 tbsp tamarind water
1 drumstick
Curry leaves
2 tbsp Coconut oil
1/4 cup curd
1/2 tsp chilly powder
1/4 tsp turmeric powder
1 - 1 1/2 cups grated coconut
1 green chilly
1/2 tsp cumin seeds
Curry leaves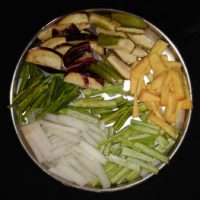 Cuisine: Kerala
Cooking time: 40 mins
Serving: 8 people
Cut all the vegetables into 1 1/2 inch long pieces.
Ingredients for Paste:
1 – 1 1/2 cups grated coconut
1 green chilly
1/2 tsp cumin seeds
Curry leaves
Add water and grind these ingredients into a fine paste. Add curry leaves only in the last grind so that it doesn't get grounded fully into the paste.
Method
Cook the vegetables with just enough water to cover the vegetables and add turmeric and chilly powder. When the vegetables are half cooked add salt and tamarind water (add tamarind water only in case you haven't put raw mangoes with the vegetables).
When the vegetables are cooked well, add the ground paste and mix thoroughly. Add curd, mix and Switch off the gas. Do not cook for long after adding the curd. Pour 2 tbsp coconut oil and few curry leaves.
Note:
AVIAL can also be made without chilly powder and turmeric powder. Instead add 2 more green chilly while grinding the paste. The color of the AVIAL will be white. Recipes for lunch.
Meal: Food type: