1 cup basmathi rice
¼ cup Peas
1 tbsp Ghee
¼ cup Dhaniya leaves
1 ¼ cup Coconut milk with water
2 Green Chillies
½ tsp Ginger Garlic Paste
1 small piece Cinnamon
3-4 Cloves
3-4 Cardamon
1 Bay leaf
Salt to taste
A few Cashew and Kismis
1 tsp lime juice
Bread crumbs (optional)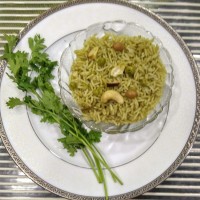 Cuisine:
Cooking time: 45 mins
Serving: 4 people
Green Rice is popular in our family. The mix of Coriander and coconut milk gives it a flavor which is savoured by both the young and the old equally.
Preparation
1. Heat ghee in the pressure cooker. Add the spices, ginger garlic paste cashew, kismis, peas and fry for 3 minutes. Thereafter add the basmathi rice and continue to sauté for 3 minutes.
2. In the meanwhile also grind the coriander leaves and the green chillies with little water and strain with a strainer to collect ¾ cup of the coriander and chilly water. Add the 1 ¼ cup coconut milk with water to this and prepare 2 cups of the mix.
3. Now add these 2 cups of the blend into the rice after sautéing the rice as mentioned in point 1. Add salt, the lime juice and close the cooker without the weight. When the steam comes from the cooker place the weight and cook for precisely 5 minutes on low flame.
The Green Rice is ready to be served. You can also add fried bread crumbs to the rice. Recipes for lunch.
Meal: Food type: