2 medium Brinjal
1 tsp Turmeric powder
2 tsp Red Chilly Powder
1tsp Coriander Powder
Pinch of Hing (optional)
Coarse rice powder or rava
Salt to taste
Oil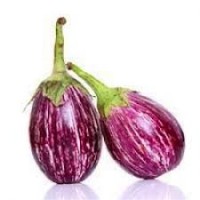 Cuisine: Kerala
Cooking time: 20 mins
Serving: 4 people
There are varieties of brinjal/eggplant available in the market today. To avoid any confusion I have put up an image of the same.
Preparation
1. Cut the brinjals in circles in 1 inch thickness. Take the brinjals in a mixing bowl and add turmeric powder, chilly powder, coriander powder, salt and mix well. Keep it aside and marinate for 5 to 10 minutes
2. Take the coarse rice powder or rava in a plate. Dab both sides of the marinated brinjals in the coarse rice powder or rava.
3. Take a tava, apply oil on it and heat it. Now place the marinated brinjals dabbed in coarse rice or rava one by one on the tava, pour a little oil around the sides of the brinjals and allow it to fry for few minutes on low flame. Then slowly turn each brinjal pieces and similarly fry the other side of the pieces.
4. The tava brinjal is ready
You can also use the same recipe with karelas instead of brinjals. Recipes for lunch.
Meal: Food type: