I - for cabbage balls
2 cup sliced small pieces of cabbage
1 cup small pieces of onions
2 green chilly cut into small pieces
1/2 tsp small pieces of garlic
Few curry leaves
1/2 cup besan
1 tbsp maida (optional)
Oil
Salt to taste
II - for curry
1 1/2 cup grated coconut
1 cup water
1 tsp chilly powder
2 tsp coriander powder
1/2 tsp turmeric powder
1 tsp pepper powder
1/2 tsp jeera
1/2 tsp garlic finely chopped
Few curry leaves
Salt to taste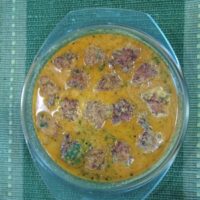 Cuisine: Kerala
Cooking time: 45 mins
Serving: 8 people
Method:
Mix well the vegetables, green chilly, garlic, curry leaves, besan, maida (optional) and salt. Make small balls of the mixture, deep fry them till it turns brown and keep it aside.
Now grind all the ingredients mentioned in part II above.
Heat kadai and pour oil. Put the coconut paste in the kadai and sauté for few minutes. Pour water and add salt.
When it boils drop the fried cabbage balls into the kadai carefully. Stir the curry gently without breaking the balls.
After few minutes switch off the stove. Pour coconut oil over the curry and garnish with curry leaves. If you like garnish with coriander leaves also.
This dish can be served with chapati as well as rice.
Meal: Food type: