1 big sweet potato
1 cup Grated coconut
1 tsp chilly powder
1/2 tsp turmeric powder
5 peppercorns
1 pinch jeera
Few curry leaves
2 tsp coconut oil
Salt to taste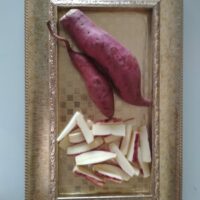 Cuisine: Kerala
Cooking time: 30 mins
Serving: 4 people
Method:
Remove the skin of the sweet potato. Cut it into two parts and further cut each part lengthwise into pieces of 3 inches each. Clean the sweet potato and cook it with adequate water in a kadai.
Grind the grated coconut, chilly powder, turmeric powder, jeera and pepper with little water into a paste. Add curry leaves and grind further for 2 seconds.
Once the sweet potato is half cooked add salt ,the coconut paste, pour water, if required to maintain a semi liquid consistency and cook for 2 to 3 minutes.
Switch off the gas when the potato is well cooked. Pour coconut oil over it and add few curry leaves
Sweet potato avial is ready to be served with rice.
Meal: Food type: