2 half riped mangoes
2 cups of curd
1 cup grated coconut
2 sambar onions cut into pieces
1 tsp ginger cut into small pieces
3 green chilly cut into small pieces
2 tsp mustard
1 red chilly
Few curry leaves
Salt to taste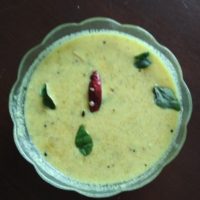 Cuisine: Kerala
Cooking time: 20 mins
Serving: 4 people
Method:
Remove the skin of the mangoes and cut it into small pieces. Cook the mangoes in adequate water.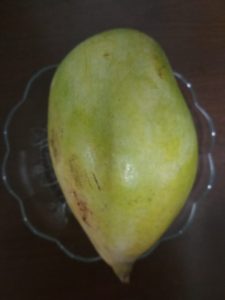 Grind the grated coconut into a paste. Add 1 tsp mustard and curry leaves and grind again for one round only. (Grinding the mustard too much can spoil the taste of the pachhadi. )
Add salt, ginger, green chilly and the coconut paste to the cooked mangoes. Mix well and heat it on a small flame for sometime. Add beaten curd, mix and switch off.
Now heat oil in a kadai. Add mustard. When it splutters add red chilly and onion. As the onion turns brown add curry leaves.
Pour this seasoning to the mango pachhadi. The consistency of the pachhadi has to be semi liquid.
Meal: Food type: