For Vada:
1 cup Udad dal
Salt
Oil
For the curry:
3 potatoes (boiled and peeled)
Onions
1 small piece cinnamon
1 small bay leaf
1 tsp ginger cut into small pieces
1 tsp garlic cut into small pieces
1 tsp chilly powder
2 cups coconut milk
1/2 tsp turmeric powder
1 tsp coriander powder
2 tsp curry Masala
2- 3 pieces of clove and cardamom
Oil
Salt to taste
For seasoning:
2 tblsp oil
1 red chilly
1 tsp mustard
Few Curry leaves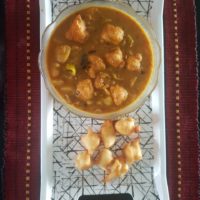 Cuisine: Kerala
Cooking time: 45 mins
Serving: 4 people
Method to make Vada:
Wash the urud dal thoroughly and soak in water for an hour. Add little water and salt and grind it into a thick paste. Be careful while adding water as it will be difficult to make vadas if the batter is watery. The batter for the vada is ready. Make small balls out of the batter.
Heat oil in a Kadai and deep fry the vadas over a medium flame till they are golden brown in colour. Remove the vadas and drain the excess oil on an absorbent paper.
Method for curry:
Heat the Kadai and pour 2 tblsp oil. Add red chilly and mustard. When the mustard splutters add curry leaves.
Add onion, ginger, garlic, clove, cardamom, cinnamon, bay leaf and salt. Sauté for 3 to 4 minutes and then add turmeric powder, chilly powder, corriander powder, curry masala powder. Stir for 2 to 3 minutes.
Now cut the boiled potatoes into small cubes and put them in the Kadai. Stir for few minutes.
Add 1 cup coconut milk with 1 cup water and cook for 10 to 15 minutes.
After this add the vadas to the gravy and further add another cup of coconut milk with 1/2 a cup water. Cook for 2 to 3 minutes.
Turn off the gas and cover it with a lid for 15 minutes.
The curry is ready to be served. This curry can be served with chapatis, idiyappam, pathiri or Puri.
Meal: Food type: