1/4 cup medium sized cow beans (soaked)
1/2 cup white pumpkin cut into thin medium sized cube shaped
1/2 cup yellow pumpkin cut into thin medium size cube shaped
2 or 3 green chilly
1 small piece of ginger
2 cups coconut milk
Few curry leaves
1 tblsp coconut oil
Salt to taste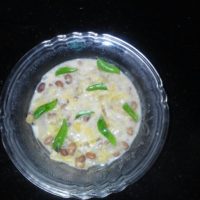 Cuisine: Kerala
Cooking time: 30 mins
Serving: 5 people
Method:
Take a thick based vessel and cook the soaked beans with salt and adequate water. Also remember not to add too much of water as, when we add the pumpkins, it will leave water which will make the curry watery.
Once the beans cook well, add the white pumpkin, red pumpkin, chilly and ginger. Cook for a while.
When the pumpkins are half cooked, add 1 cup coconut milk and little salt. As the consistency of the curry becomes thicker add another cup of thick coconut milk.
In about a minute or 2 put off the flame and pour 1 tablespoon coconut oil and spread few curry leaves. Olan is ready.
Olan is one of the important curry in a Kerala sadhya. Sadhya is usually served on a banana leaf with all varieties of curries during festivals and functions.
Meal: Food type: