1 cup scraped beet root
2 green chilly (cut into small pieces)
1 onion (cut into small pieces)
1 tsp garlic (cut into small pieces)
1 tsp ginger ( cut into small pieces)
1 tsp mustard
1/2 cup curd(you can add 1cup curd if you like)
1 red chilly
2 tbsp oil
Few curry leaves
Salt to taste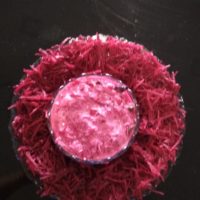 Cuisine: Kerala
Cooking time: 30 mins
Serving: 5-6 people
Method:
Remove the skin of the beet root. Clean the beet root and grate with a scraper.
Heat the kadai and pour oil. Add red chilly, mustard. When mustard splutters add curry leaves.
Add green chilly, garlic, onion, ginger and sauté for sometime.
Add beet root and salt. Sauté for 5 minutes. Switch off.
Add curd and mix well.
Alternatively, you can prepare this Kichhadi using carrots instead of beet root.
KICHHADI should not be confused with the kichadi in north India. In north kichadi is a combination of dal and rice but the KICHHADI from south is a combination of vegetables and curd with tadka.
Meal: Food type: