1 cup Doppy rice (boiled rice)
1/2 cup Black gram dal (without skin is better)
1/4 tsp Cumin seed
1/2 cup Scrapped coconut
Salt to taste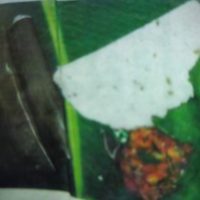 Cuisine: Kerala
Cooking time: 60 mins
Serving: 8 people
Method:
Soak and grind rice and black gram dal a little coarser and thicker than you would grind for idli batter. Add salt and cumin seeds. Mix well.
Spread one big spoonful batter on a piece of plantain leaf or 'seelanthi' leaf. Place one spoon scrapped coconut in the center. Fold the leaf. Steam cook this.
This dish goes well with mulagu chamanthi (find recipe on this site).
Meal: Food type: