Ingredients:
One bunch coriander leaves
Chilly powder - 2 tsp
Urad dal - 1 tsp
Tur dal - 1/2 tsp
Tamarind pulp - 1 tsp
Water - 1/2 cup
Salt to taste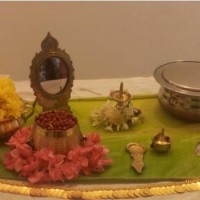 Cuisine: Kerala
Cooking time: 15 mins
Serving: 4 people
Method:
First in a Kadai fry the Urad dal and Tur dal with little oil. Sauté till it becomes golden brown. Keep aside.
 Add chilly powder, salt to the fried dal and grind all into a fine powder. Wash and clean the coriander leaves with stems. Then grind the coriander leaves, tamarind pulp and water along with the grind powder to a fine paste. Serve it with idli or curd rice. Recipes for breakfast
Meal: Food type: