1 cup idli rice
1/4 cup tur dal
1/4 cup mung dal
1/4 cup chana dal
1/4 cup urud dal
1/4 tsp methi seeds (optional)
1 onion chopped into small pieces
3 red chilly (or 1 tbsp chilly powder)
1 green chilly
1/2 tsp asafoetida/ hing
Few curry leaves
Salt to taste
Oil/ ghee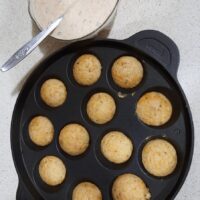 Cuisine: Kerala
Cooking time: 660 mins
Serving: 2 people
To make paniyaram, we need the vessel used for making uniappams. It's a round vessel with multiple hollow pockets, preferably Teflon coated.
Method:
Soak the dals and the rice in water for 2 hours. Remember to soak the dals separately from the rice. With the dals, put the red chilly too. In case you are using chilly powder, do not add it now. After 2 hours grind the rice coarsely. Now add all the dals and other ingredients (including the red chilly powder, in case you haven't added the red chillies to the dal) except onion mentioned above and grind together. The batter should be a bit coarse. Add the chopped onions now and mix well.
Keep the batter aside for 8 hours to ferment it.
Take the uniappam vessel and apply few drops of oil or some ghee in each of the pockets. Heat it. In medium heat pour a table spoon of batter into each of the pockets and cover it with a lid. Let it cook on sim. After sometime flip the paniyaram in the pockets. Spread a few drops of oil or ghee on this side too. Prepare both sides nicely to a golden brown colour.
A special breakfast to be served with sambhar, chutney or idli podi, is ready.