For curry
5 Small brinjal cut into pieces
6 Sambhar onions (small onions) cut into small pieces
5 garlic pods peeled
4 big green chilly
Few curry leaves
Few coriander leaves
Oil
For gravy:
4 tbsp grated coconut
1 tbsp red chilly powder
1/2 tbsp coriander powder
1 pinch methi ( fenugreek)
1/4 tsp turmeric powder
3 tbsp thick tamarind extract
1 pinch cumin seeds
1 tsp oil
Salt to taste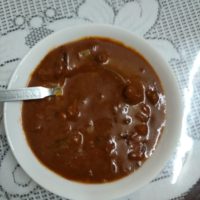 Cuisine: Kerala
Cooking time: 60 mins
Serving: 5 people
Method:
Roast the grated coconut in oil till it turns golden brown. Add red chilly powder, coriander powder and turmeric powder. Switch off. Grind this with adequate water into a very smooth paste. Add pinch of cumin seeds.
In a pan, pour oil sauté the brinjal, onions, garlic pods and green chillies, till the onions are transparent and the brinjals turn brown.
Add the grounded coconut paste, thick tamarind extract and salt to the pan. Pour 2 to 3 cups of water and boil.
Let the curry be on low flame till the gravy becomes thick. To balance the taste add a piece of jaggery. Garnish with coriander leaves and curry leaves.
Brinjal curry is ready to be served with rice.
Meal: Food type: