3 cups idli rice
1 cup urud dal ( in case of good quality Urdu dal use 4 cups of idli rice)
1 spoon cooked rice
Salt to taste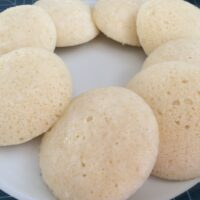 Cuisine: Kerala
Cooking time: 15 mins
Serving: 2 people
Method:
Clean the idli rice and Urdu dal in water thoroughly. Soak the rice and the dal in water for 4 to 5 hours. Do not throw away the water. You can use the water for grinding.
Grind the rice and dal while adding little water from time to time. Grind it into a thick batter.
Keep it for fermenting for 12 hours. Add salt when ready to make idlis.
For Dosa you can add methi seeds and add more water to make the consistency of the batter a little thinner.