For paste
1 cup Grated coconut
1 tsp Jeera
1 big floret of Garlic
6 to 7 leaves of Curry path
For seasoning
1 tbsp Oil
1 tbsp of Coconut cut into small pieces
1 whole red Chilly
1 tsp mustard
6 to 7 leaves of Curry path
Main dish
1 cup black gram
¼ cup chopped cucumber
¼ cup chopped Suran (Yam)
¼ cup chopped Snake Gourd
¼ cup chopped Raw banana
¼ cup chopped Beans /Gavar
¼ cup chopped brinjal
1 tsp Chilly powder
1 tsp turmeric powder
Oil
Salt to taste
A few corn of Pepper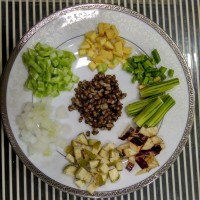 Cuisine:
Cooking time: 60 mins
Serving: 5 people
This preparation is a traditional cuisine which is used as a side dish with rice.
For paste
First grind the coconut, jeera and garlic with water in the mixer to make a paste. Then add curry patha and grind for 4 to 5 secs only.
Cooking Method
1. Pressure cook the whole black gram, pepper corns and a little salt with adequate water.
2. Add the chopped vegetables, chilly powder, turmeric powder, salt alongwith 1 cup water to the cooked whole black gram. Again pressure cook the mixture for 1 whistle on low flame. Then set it to cool.
3. After it cools add the grounded paste of coconut, jeera, garlic and curry patha and boil the whole thing for 5 minutes until the gravy thickens to semi liquid state.
4. In the meanwhile for seasoning heat a pan with 1tbsp oil and add red chilly mustard and curry patha. When the mustard splutters add the finely cut coconut pieces and fry till it turns into brown colour.
5. Add this seasoning to the black gram preparation. Serve hot. Recipes for lunch.
Meal: Food type: