1 big raw banana
1 cup grated coconut
1 pinch jeera
2 tsp chilly powder
1/2 tsp turmeric powder
1 tblsp oil
Few curry leaves
Salt to taste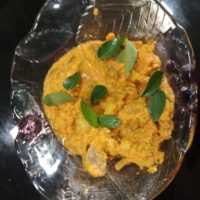 Cuisine: Kerala
Cooking time: 30 mins
Serving: 4 people
Method:
Peel the skin of the banana. Clean the banana. Cut the bananas lengthwise into thin slices of 11/2 inches each.
Cook the banana with adequate water in a kadai.
Grind the coconut, chilly powder, turmeric powder and jeera with little water to make a paste. Add curry leaves and grind a bit again.
When the bananas are almost cooked add this paste and salt and cook for 5 minutes. The consistency of this dish is that of semi liquid.
Pour coconut oil and add few curry leaves over the avial to enhance its flavour.
This is side dish to be served with rice.
Meal: Food type: