1 cup whole Green Moong (soak the moong for 3 hours)
1 cup Red Pumpkin (cut into medium size cubes)
1 cup Veg Kela (cut into medium size cubes)
1 1/2 cups grated Coconut
1 tsp Jeera
2 big pods of Garlic
2 tsp chilly powder
1 tsp turmeric powder
Few Curry leaves
2 tbsp Oil
1 tsp Urud dal
1 tsp Mustard
2 Red chilly
Salt to taste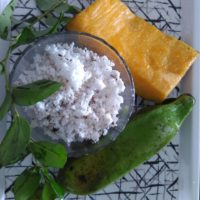 Cuisine: Kerala
Cooking time: 40 mins
Serving: 5 people
Method :
1. Pressure cook the moong for three whistles. Once it cools down, open the cooker and add the cut Pumpkin, kela, turmeric powder, chilly powder and salt. Pressure cook it for 1 whistle.
2. Grind 1 cup coconut, Jeera, garlic and curry leaves into a paste.
3. Once the cooker cools open it and add the grounded paste. Add enough water to get a medium consistency. Place the cooker on gas and cook for 5 minutes. Stir it occasionally. Add seasoning.
Seasoning :
Heat 2 tblsp oil in a Kadai. Add 2 red chilly, urud dal, mustard and curry leaves. When the mustard splutters add 1/2 cup grated coconut and fry till it turns brown.
Pour this seasoning into the curry and cover it with a lid.
This is another semi gravy curry to be served with rice. Enjoy.
Meal: Food type: