10 bean pieces
1 onion big
1/2 cup grated coconut
1 tsp chilly powder
1 tsp jeera
1/2 tsp turmeric powder
Few curry leaves
1 tbsp coconut oil
Salt to taste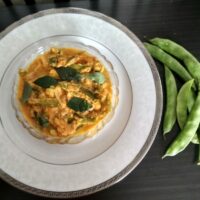 Cuisine: Kerala
Cooking time: 30 mins
Serving: 4 people
1. Cut the beans into two and slit each part lengthwise into 2. Cut the onion also lengthwise.
2. Cook the beans and the onions together in sufficient water. When the beans cook add salt.
3. Grind the coconut with jeera, chilly powder, turmeric powder and little water into a paste. Add curry leaves and grind again for 2 seconds.
4. Add this coconut paste to the cooked beans and onion and leave it on sim to further cook for 3-4 minutes.
5. Switch off the flame and pour coconut oil over it. Add curry leaves and close it with a lid.
6. Serve it with rice.
Meal: Food type: