Ingredients :
1/4 kg whole mung
1/4 kg jaggery
1 1/2 cup grated coconut (optional)
1 tbsp copra cut into small pieces
1 tbsp ghee
1 tsp cardamom powder
2 cup wheat or maida
1 pinch salt
Oil for frying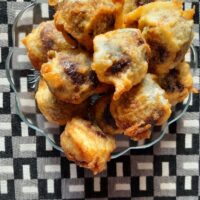 Cuisine: Kerala
Cooking time: 60 mins
Serving: 5 people
Method:
Heat the jaggery. Melt the jaggery with 1/4 cup water and filter it to remove impurities, if any.
Wash the mung clean. In a pressure cooker, cook the mung with 21/2 cup water. Switch off after 3 whistle.
Heat a pan and pour the melted jaggery into it. Add cooked mung and coconut. Mix well and continue to cook for 5 minutes. While stirring continuously add ghee and cardamom powder. Once the mix starts coming off from the sides, switch off. After cooling, roll it into small lemon size balls.
In a vessel take 2 cups of wheat or maida. Add salt and water to the maida. Mix it well to get a batter of thick consistency.
Heat oil in a pan for frying. Dip the mung balls in the wheat/maida batter and deep fry in oil. Around 20-25 sukhiyan balls can be made from the given quantity of ingredients.