1 small iddichakka
1/2 cup grated coconut
1 pinch jeera
2 small pods of garlic
1 tsp chilly powder
1/2 tsp turmeric powder
Few curry leaves
Salt to taste
Seasoning:
3 tsp oil
1 red chilly
1/2 tsp mustard
1/2 tsp Urud dal
Few curry leaves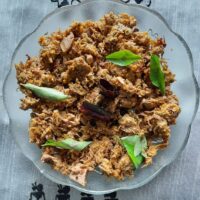 Cuisine: Kerala
Cooking time: 45 mins
Serving: 4 people
Method:
1. Remove the hard outer cover of the jackfruit using an oiled knife.
2. Cut the inner flesh into medium size pieces. You can slice off some portion of it, if it's too hard. Wash it thoroughly in water. Cook the pieces in water with salt till it turns tender. Strain the remaining water. You can also cook the pieces in a pressure cooker. Mash the boiled pieces into shreds.
3. Grind the coconut, jeera, garlic, chilly powder, turmeric powder, curry leaves together without water.
4. Heat the Kadai and pour 3 tsp oil. Add Urud dal, mustard, red chilly. When the mustard splutters, add currry leaves. Sauté for a minute and then add the steamed jackfruit pieces.
5. Sauté for few minutes, then add the grounded coconut. Mix well and sauté for few more minutes. Switch off the flame.
You can have different flavour everyday complementing your rice with the variety of thorans available. Have a happy meal.