1/2 cup jackfruit seeds cut lengthwise
1 /4 cup drumstick cut into 1 1/2 inches lengthwise
1/4 cup snake gourd cut into 1 1/2 inches lengthwise
1/4 cup yam (skinned and cut into11/2 inch lengthwise)
1 1/2 tbsp coconut oil
1 tsp jeera
1 cup grated coconut
2 tsp chilly powder
1/2 tsp turmeric powder
2 pods garlic
3 sambhar onion (skinned)
Few curry leaves
Salt to taste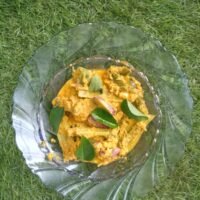 Cuisine: Kerala
Cooking time: 30 mins
Serving: 3 people
Method:
Cook all the vegetables with salt and enough water.
Grind grated coconut, jeera, chilly powder, turmeric powder, garlic, sambhar onions with enough water into a paste. Add curry leaves and grind only for 2-3 seconds.
Add this paste to the vegetables when it's almost cooked and mix well. Cover with a lid. Let is cook well for 5 minutes. Add salt and water if required.
Cook until it reaches a semi liquid consistency and then switch off. Pour coconut oil and spread few curry leaves over.
Our Jackfruit seeds Avial is ready to be served.