1 cup sambhar onions(cut into small pieces)
4 extra sambhar onions
1 cup grated coconut
5 red chilly dry
1 tbs coriander seeds
1/4 tsp pepper
1/4 cup Tamarind extract
1 tsp jaggery or sugar
1 pinch hing
1 cup water
2 tsp Oil
Salt to taste
Seasoning:

Oil
1 tsp mustard
1/4 tsp methi seeds
1 red chilly
Few curry leaves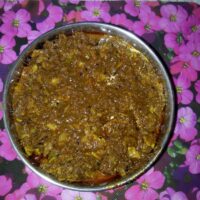 Cuisine: Kerala
Cooking time: 60 mins
Serving: 4 people
Method:
1. Heat a kadai, pour coconut oil and add grated coconut, coriander seeds, 4 sambhar onions, pepper, curry leaves and red chilly. Sauté it till the coconut turns dark brown. Be cautious not to get it burnt. Switch off and let it cool. Once it cools down, take it out into a mixie, add little water to it and grind it into a smooth paste.
2. Take the kadai, pour coconut oil and fry the cut onions into light brown. Add salt, tamarind extract and let it boil for 2 mins in a low flame.
3. Now add the above (1) coconut paste and add little more water. Add a pinch of hing. Stir for a minute till the paste mixes well.
4. Add 1 cup water and boil it for 10 mins in medium flame. Add jaggery or sugar. Switch off the flame. You can adjust the consistency of the theeyal , as required. Add hot water if needed.
For Seasoning:
In a kadai, pour oil. Add methi seeds, red chilly, mustard when the oil is hot. Add curry
leaves when the mustard splutters. Pour it to the theeyal.
Another accompaniment for rice as well as idli/ dosas.