1 cup Urdu dal
Oil for deep frying
3 cup curd
2-3 tbsp sugar
2 tbsp grated coconut
2 green chillies
1 tsp finely chopped ginger
2 tbsp coriander leaves
Chilly powder
Pepper powder
Jeera powder
Salt to taste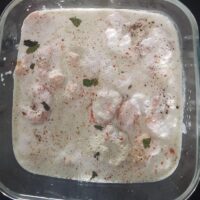 Cuisine: Kerala
Cooking time: 60 mins
Serving: 4-5 people
Method:
1. Clean urud dal thoroughly in water and soak it in water for half an hour. Later drain out the water and grind it to a smooth paste by adding small quantity of water at a time. Be careful of not adding too much water. The batter shouldn't be runny loose. Add only a pinch of salt (as we also add salt to the curd ) and mix well. Transfer the batter to a bowl and beat it with a spoon to give it a creamy texture.
2. Heat oil in a kadai for frying. Dip your hand in water, take a portion of batter and shape it flat on your palm. Make a hole in the centre with your finger. Gently slide it into the oil when it's hot enough and fry it to golden brown. Fry the vadas one by one on a medium flame. Now soak the hot vadas in a bowl of hot water for 5 to 10 minutes. This will make the vada soft. Now squeeze the vada gently and arrange it in a flat serving dish.
3. Grind coconut, green chillies, ginger, coriander leaves and a pinch of salt into a fine paste.
4. Now take curd in a bowl. Add sugar and beat it well. Add 1/2 tsp salt, 1/2 cup water and the coconut paste and mix it well.
5. Pour this mixture on the vadas evenly. Sprinkle chilly powder, pepper powder and jeera powder (optional) over it. Keep aside for 15 to 20 minutes before serving.
Note-
To understand if the consistency of the vada batter is right, drop a pinch of batter into water. If the batter floats in water it means the consistency is proper.