For Vada -
1 cup tur dal
1 onion chopped into small pieces
2 tsp chilly powder
1 tsp hing
Oil for deep fry
Few curry leaves
Salt to taste
For Rasam -
1 tbsp coriander seed
3 red chilly
1 tsp hing
4 pods of garlic
1 tsp methi seeds
1 tsp jeera
1 tsp pepper
5 sambhar onions
1 tomato
2 tsp sambhar powder
2 tbsp tamarind pulp
Salt to taste
Few curry leaves
For seasoning of Rasam -
2 tbsp oil
1/2 tsp methi seeds
1 red chilly
1 tsp mustard
Few curry leaves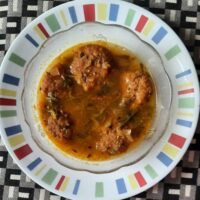 Cuisine: Kerala
Cooking time: 60 mins
Serving: 4 people
Method:
For Vada –
Soak the tur dal in water for 2 hours. Wash and drain off the water completely and grind the dal with chilly powder, salt and curry leaves into a coarse paste without water.
Remove the paste into a vessel. Add onion, hing and mix well.
Heat the Kadai and pour oil for deep frying. Take lemon size batter in hand, flatten it on your palms and drop it into the oil when the oil becomes hot enough. Fry in medium to low heat. You can fry 4 to 5 vadas at a time depending on the size of your Kadai.
When the vadas turn golden brown and crispy, take them out onto a tissue paper to drain excess oil.
For Rasam –
Coarsely grind all the ingredients mentioned for rasam with little water.
Heat the Kadai. Pour oil, add chilly, methi seeds, mustard. When mustard splutters, add curry leaves.
Reduce the flame, add the coarsely grounded powder and stir well with 1/2 cup water. Sauté for few minutes. Add tamarind pulp and bring it to boil. Add 4 cups of water and continue to boil for 5 more minutes. Check on the flavour and add salt as per taste, if needed.
Rasam vada –
Put the vadas in hot Rasam. Switch off and leave it aside, covered with a lid, for 15 minutes. Allow the vadas to soak well in the Rasam. Rasam Vada is ready to be served.