1 cup raw rice
1/2 cup mung dal
1 3/4 cup powdered jaggery
5 tbsp ghee
Cashews
Kismiss
1 tsp powdered cardamom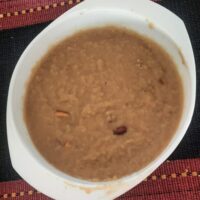 Cuisine: Kerala
Cooking time: 45 mins
Serving: 4 people
Method:
Fry the mung dal without oil till it turns light brown. Clean the rice and the mung dal in water. Pressure cook the rice and the mung dal together in 6 cups of water. Switch off after 2 whistles.
Open the cooker once it cools down. Add jaggery and mix well. Cook on medium or slow flame. Keep stirring so that the rice does not stick to the bottom of the vessel. Add warm water if needed, to get a semi liquid consistency. Continue to stir until the jaggery melts and mixes well with the rice and dal. Add ghee as and when required.
Switch off when the mix reaches a semi liquid consistency.
Fry the cashews and kismiss in ghee and pour it on the payasam. Strew the cardamom over the payasam and mix.
This payasam complements well with medu vada or chundal. The recipe for chundal is available on this site.
Note:
Make sure that the jaggery used is clean and does not need to be filtered. In case you need to filter it, melt the jaggery in a vessel and strain it with a sieve, before you use it for the payasam.